A few months ago I posted about finding a forum post (Which I'll link to if you want to read the entire thread) which majorly creeped me out. Long story short: Woman's husband doesn't have a very active sex drive (or maybe just motivation to have sex with her). She asks for advice. Amid some semi-useful stuff comes the suggestion to… well… rape him.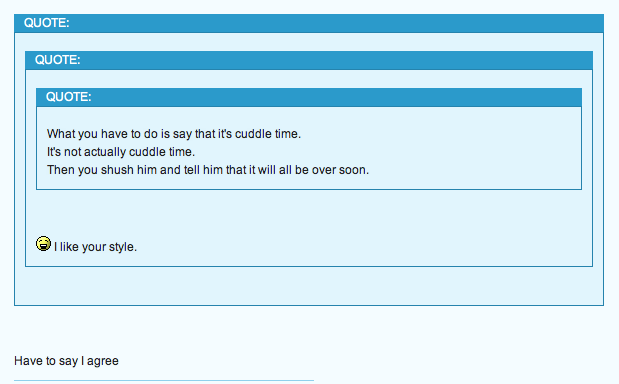 Tonight I was posting a comment on Facebook and thought of this post, so I went back to the forum, and I found another piece of advice.

So if you're not willing to rape him, you could just drug and frustrate him. Probably not going to get you a rape conviction, but it is probably good enough for domestic abuse.
Now I'm not going to pretend that this is the only double standard in the world, but honestly, if you switch this entire conversation around, it's really really disturbing. (Of course there are some that still aren't sure what rights people should have to consent, especially if they dress a bit too sexy – just ask many of my Indian friends who are concerned about this issue in their country).
Others have caught on to this creepiness, of course few in the forum actually admit they're advocating illegal behavior or take such concerns seriously. Heck, one woman admits to the 'cuddle' trick: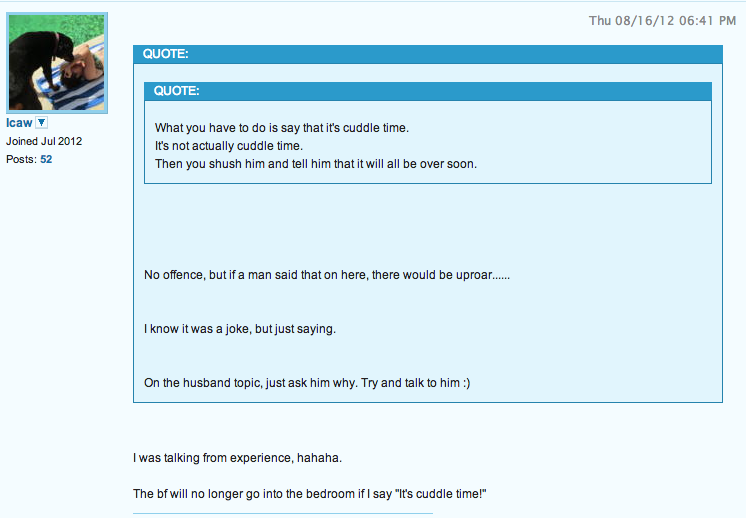 If I were "The bf" I wouldn't go into the bedroom ever again. I'd also stop accepting prepared food, and find someone a bit less inclined to joke about raping me.