Recently I've been working out and trying to get back on my diet (err… Reduced Calorie Intake Plan – RCIP, remember?). One of the sites I use to track my information also has a forum for members, and I sometimes scan the list of topics just to see what's going on. It's there that I found a slightly creepy exchange.
The back story: A woman complains that her husband doesn't want to have sex with her as often as she wants (especially now that she's working out and it's "all she thinks about"). He's got no interest. Amidst many of the helpful comments, one person wrote the following, which was heavily quoted and heartily agreed to: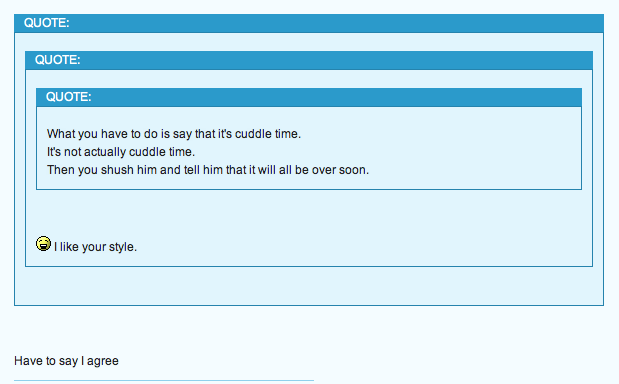 So assuming her husband does not want to have sex, I believe the word that describes the actions above would be… oh yea… rape. Could you imagine if the roles were reversed? How super creepy would it be to go to a forum and see a man complaining about his wife having no interest in sex, and then have someone write the above. "shush her and tell her it will all be over soon" – sounds like a line from a horror movie or crime docudrama, right? And then to have multiple people agree…
Kinda creepy on this Friday morning!