After much gnashing of teeth and cries of angst, I was able to move a Google Site to a Google Apps Installation. In the end, it was actually really simple…
The first approach was to use the Google-Sites-Liberation tool, published recently on Google code, which looked very promising. However I soon found 2 issues with our particular domain (This one and this one) which unfortunately prevented me from using the tool. I also didn't have much time to devote to debugging it. Desperate, I pieced together the following method through a few inferences and forum posts. It's pretty simple: Copy the site from your account to your apps account!
You'll need to be an "owner" of the site you're trying to migrate to do this, and will probably need GMail enabled on the destination apps installation, here are the steps:
1. Log into the google site you want to migrate and bring up sharing properties.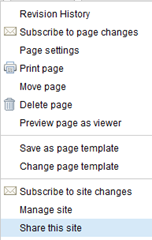 Next, share the site to your Google Apps account's e-mail address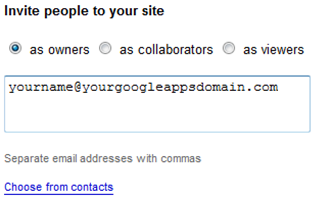 2. Log into your Google Apps GMail and you should find an e-mail telling you that you've been added as an owner to the original site:

3. Click on the link (you may want to sign out of your original GMail account here so that you enter the site as your Apps identity). You should see your Apps e-mail address in the upper right, not your GMail address. If you see the GMail address, sign out and then click the link again from your Apps GMail.
4. click on "More actions" then "Manage Site"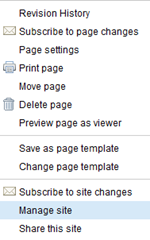 5. Click on General in the left link bar.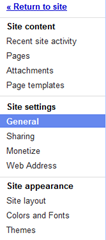 6. On that page, click "Copy This Site"

7. The dialog box for copying should be for your Apps domain, not for regular Google Sites, it should look something like this (With your apps installation name where I've blacked out):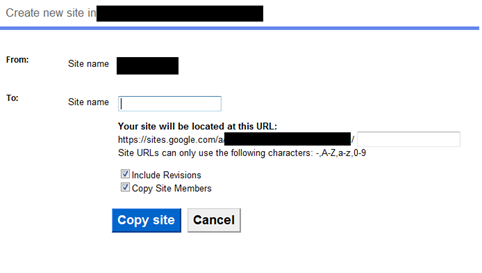 8. Click Copy Site (Unchecking revisions if you have a lot of them, and site members if you don't want them), and you should now have an exact copy of the Sites site in your Apps installation!
9. You'll probably want to close off editing of the old site to the new, if applicable to you. Now pop some champagne and enjoy!